Our Story
WHY CHOOSE LOVE DOKI?
01
We care about you.
YES, we really do! We want to know all about your goings-on with your Dokibook, how it helps with your life and what unique improvements you wish to see in the future.
02
We are committed to quality.
We don't settle for anything but the best, and neither should you. We've worked hard to source the best materials, factories with the most experience and a team of quality control personnel to make sure each Dokibook is a dream come true.
03
We love animals.
We want you to Enjoy Your Life, we hope the animals can too! None of our products uses any animal part.

a few words about Love Doki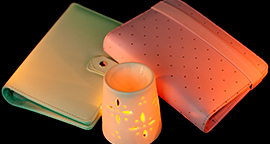 We are a small team of young people living in Hong Kong and Shenzhen with a passion for lovely stationery and keeping life organized.
We are very passionate with what we do. Each time we see a Dokibook out in the wild through social media like Twitter, Pinterest, Instagram, Facebook, Youtube, etc, we would pore over every picture and savor every single detail. We feel very amazed that our Dokibooks receive so much love and we feel very much humbled by the affection we get.

You are the reason why Love Doki exists. If you have anything that you wish us to know, we are very eager to listen. Click the button below to drop us a message anytime!
contact us